About: Jeremy Henderson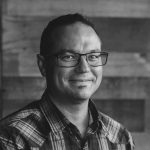 Website:
Profile:
Jeremy's utmost desire in ministry has been to communicate the gospel creatively and effectively across ethnic and generational lines. After serving for 18 years in pastoral and educational leadership, he sensed a great urgency to minister in the area of global missions. Jeremy serves as the Vice President of Missions Mobilization and Communications at Go To Nations and leads Ministry Partner Development for his organization, training emerging leaders both in the United States and cross-culturally in the area of support-raising.
Posts by Jeremy Henderson:
No posts by this author.