About: Dave and Geri Fuehring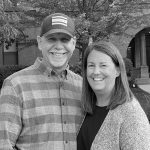 Directors of Ministry Partnership Development, Josiah Venture
After getting connected to Josiah Venture (JV) through short term teams, Dave and Geri Fuehring joined the JV Czech Republic team full time in 2015. There, they worked as local missionaries until 2019, investing in students and leaders in their local church and community in the city of Olomouc. In the summer of 2019, they relocated to Chicago and are now serving with JV as Directors of Ministry Partner Development. Simply put, their role is to help equip both nationals and missionaries-in-training to develop teams that will invest in their ministry work. The Fuehrings love being involved in the broader Josiah Venture team. They feel blessed and encouraged to be able to work with staff in all the JV countries, serving the Lord with their shepherding gifts and life experience.
Posts by Dave and Geri Fuehring:
No posts by this author.