The harvest is too plentiful and the task is too great to let finances stand between laborers and the field.
Together we can help you attract more recruits, launch more laborers, & keep more veterans for the sake of the unreached.
We're with you every step of the way.
1
Shape your
culture
Create a healthy support raising DNA founded on biblical convictions, vision-driven budgeting, and a belief that full funding is expected and achievable.
2
Build
infrastructure
Construct a framework of essential policies, principles, practices, and personnel to effectively organize and guide your staff to consistently thrive in their support raising.
3
Elevate
training
Identify the tools, resources, and strengths you need to take your support raising instruction to a new level. Sharpen your skills by learning from other experts.
4
Multiply
coaching
Develop a proficient cadre of knowledgeable and caring support raising mentors at every level of your organization to get your staff fully funded - and help them stay there!
SRS Network Benefits
Support Raising Leaders Conference
You are not in this alone. Leverage the experience of other ministries as you establish your support raising culture and policies. This conference focuses on learning best practices through case studies, presentations, and group discussion on topics such as support raising training, coaching, resources, accountability, and policies. SRS Network Members receive a $50 discount to the Conference.
MORE INFO
Catapult video series
Equip and refuel your staff through more than 250 topical teaching videos on personal support raising by Steve Shadrach, author of The God Ask and founder of SRS. You can email the videos to all your staff or send specific videos to staff who need development in certain areas, such as growing their names list, biblical questions, referrals, or vision-driven communication.
MORE INFO
Additional Custom Training Options
SRS Foundations: online support raising training
Train your staff with public SRS Bootcamps or facilitate your own
MORE INFO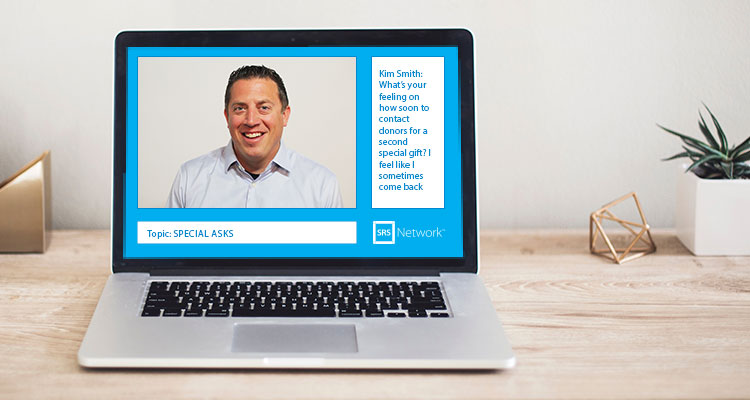 Monthly webinars
Develop yourself and your support raising coaches through monthly one-hour webinars led by veteran support raising leaders who teach on common support raising challenges and answer your questions in real time.
MORE INFO
Organizational audit
Discover your organization's strengths and weaknesses. We've developed a survey that helps you get a pulse on your staff's support raising health. Filter the results for acute analysis and schedule a phone call with us to debrief.
MORE INFO
Exclusive resources
Your trainers and coaches will have the following at their fingertips:
Audio archives from Support Raising Leaders Conferences
SRS Bootcamp materials and activity kits
Support Raising Coaches Playbook (coming soon)
Resources in multiple languages
Join the only professional
network of support raising leaders
*SRS Network Members agree to the following:
Members must respect copyrights and restricted use permissions of materials from SRS and other SRS Network members who share resources. The Webinar Library, Catapult Videos and SRS Audit are for members or their organization's use only.
Members' ministry is compatible with the SRS Statement of Faith, found at supportraisingsolutions.org/sof
Members understand this is a non-refundable, non-transferable 12-month membership to the SRS Network, and that their membership may be refunded and revoked for any reason by SRS.